Cyber Security Series on Optimized and Cost-Effective Measures for Security Leaders
Cyber Security Series on Optimized and Cost-Effective Measures for Security Leaders
Sophisticated attacks are on the rise and cyber security is a key priority for CIOs. Organizations are looking for new and improved ways of protecting their systems. Leaders are transforming security spending strategy from prevention-only measures to focus more on detection and response services. Managed Detection and Response (MDR) landscape is evolving with vendors offering services in different ways.
With huge overlap between MSSPs and MDR providers, their offerings, in addition to skill shortages in detection and response strategies, there is added confusion in the market for CIOs and other decision makers. CIOs are looking to get more visibility across their security infrastructure and have changed the way they measure success of security strategy with a combination of prevention and detection methods.
To help organization make better cyber security decisions, we are pleased to present you with our valuable findings and answers that address concerns of CIOs and other security leaders in the organization in the form of a series of blog posts. Here is the first of such series.
In house versus outsource: Three reasons why not to build in house cyber security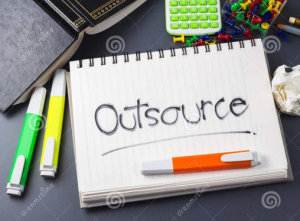 Cyber Security is no longer a technology issue but a business critical issue. As CFOs are responsible to protect critical financial information of the company such as financial statements and reporting, CISOs are to ensure critical data of the company such as intellectual property, customer credit card information or patient health information is safeguarded. Although percentage of budget allocation to cyber security has increased, dollar amount required to completely protect such company-wide risks are insufficient. CSOs have to think, now more than ever, whether to choose between an in house versus outsource cyber security operations.
Here are three points to consider for your decision as a CSO to build or not build a SOC:
Security Personnel: With shortage in cyber security talent in addition to cost of training in house security analysts, within the budget can be daunting. As per market analysis from Cybsersecurity Ventures, cyber security market expansion will add 1.5 million to the shortage of talent by 2019. Outsourcing is a cost effective solution and ensures companies will have access to highly skilled cyber security workforce within budget constraints.
Security Operations Centre: Building an in house SOC is a major project that requires substantial internal resources. With careful planning and coordination of people, processes and technologies, a SOC is expected to meet the demand to provide 24/7 protection. From resource allocation to information overload to data integrity and intelligence management, building an effective SOC requires a comprehensive approach. On the other hand, partnering with a MDR provider will help improve cyber security posture, scalability and huge cost savings.
Time and Focus: The above cyber security tasks require your continuous attention for hiring cyber personnel, training them, planning and formalizing processes, and constant monitoring of the security environment. Choosing a right cyber security service provider, will save substantial time and cost for the company while focusing on the core business.
Outsourcing of detection and response services will allow businesses to quickly adapt to changing cyber security landscape while lowering costs and time of cyber security budget. At Hacknowledge, we can save up to 73% of the cost of an in house solution. We offer managed detection and response services with unlimited vulnerability scanning and cutting edge technology that makes security monitoring simple.