On November 22nd, Hacknowledge was invited to participate to the Alps Region Boss of the SOC event.
As in 2021, we were lucky for the live event to take place in the crazily amazing Plaza Klub in Zurich (Plaza Klub). Live events were also organized in Austrian and German Splunk offices to give the opportunity to compete across multiple countries and even virtually from anywhere!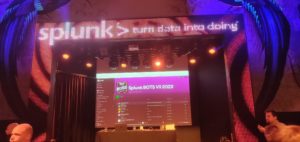 50 teams took part in the competition and the Hacknowledge team is proud to finish in the Top 10 teams!  First Romandie partner team as well 😉
We really had a great time there as always with Splunk and made great encounters with other Splunk enthusiasts, Security specialists, and last but not least our colleagues from the Swiss Post's SOC who also had a team there.
Thanks to Splunk EMEA and CH for the great organization, we had a blast. Can't wait for next year's edition!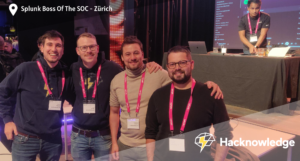 What is Boss Of The SOC?
Boss of the SOC (BOTS) is a blue-team capture the flag-esque competition organized by Splunk. As a contestant, you will explore and investigate realistic event data in Splunk Enterprise and Splunk Enterprise Security. During the competition, you'll practice your security skills and compete against peers for prizes and bragging rights. Players will be given a series of questions of varying type and difficulty and points are awarded for both accuracy and speed. Competitors will gain a stronger and more realistic understanding of their strengths regarding incident investigations. In addition, the results will highlight areas for training and education.
Posted by Thomas Mizraji